2023 has just begun, but most of us are still in the holiday mood.
To kick off this new year, it is time to sum up some information about how we performed in 2022. And by 'we,' I do not just mean BitNinja but everyone who is part of our Defense Network and helped to achieve some impressive results and made our jointly built protection shield even stronger this year.
So let's take a look at the numbers!
Our 2022 report shows that we were able to detect and ward off circa a massive 3 billion incidents around the world in total. This happened partially thanks to our extensive real-time IP reputation list that is continuously updated and increasing due to the already mentioned fantastic and unique Defense Network.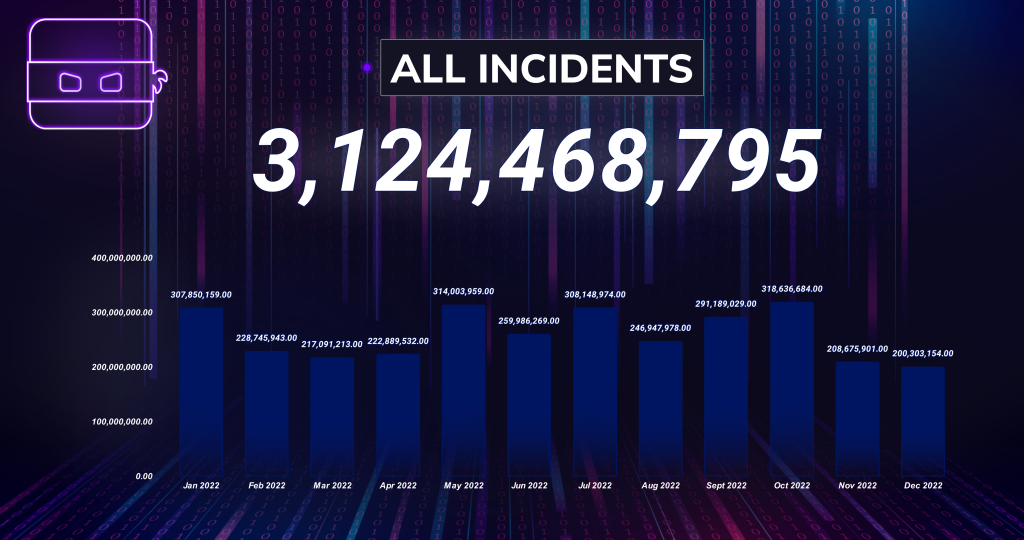 This network is a worldwide Ninja community. You can find a BitNinja-protected server in many corners of the Earth, and all of these share attack information with each other. If a server in our network faced a cyberattack in Singapore and our software stopped it, the other server in the USA is already protected from this threat. According to our report, most of the servers protected by BitNinja are located in Europe and America, but we secure servers in every continent, which is why our service is highly effective.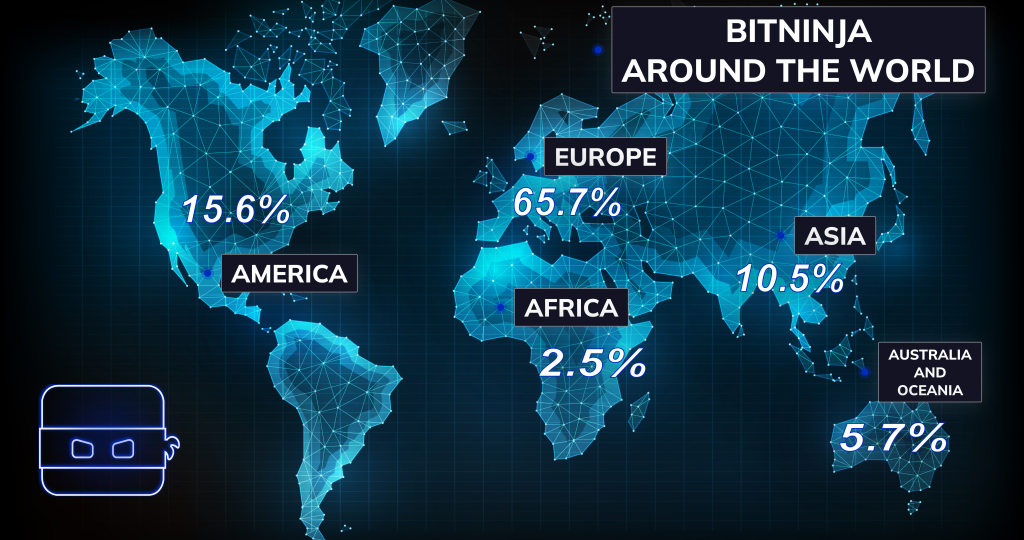 Security components
On average, every BitNinja user experiences around 200,000 incidents per day, regardless of their location. However, users who own multiple servers may face even higher numbers, with some encountering more than 800,000 incidents daily, in addition to potential malware attacks. The Honeypots and CAPTCHA modules caught the majority of these incidents. The Port honeypots trap suspicious connections, so cyber criminals won't be able to access the valid services on your servers, only the fake ones set up to trap them. The CAPTCHA module defends your servers from botnet attacks. It is used to identify false positives on the greylist and allow human users to remove themselves from it easily.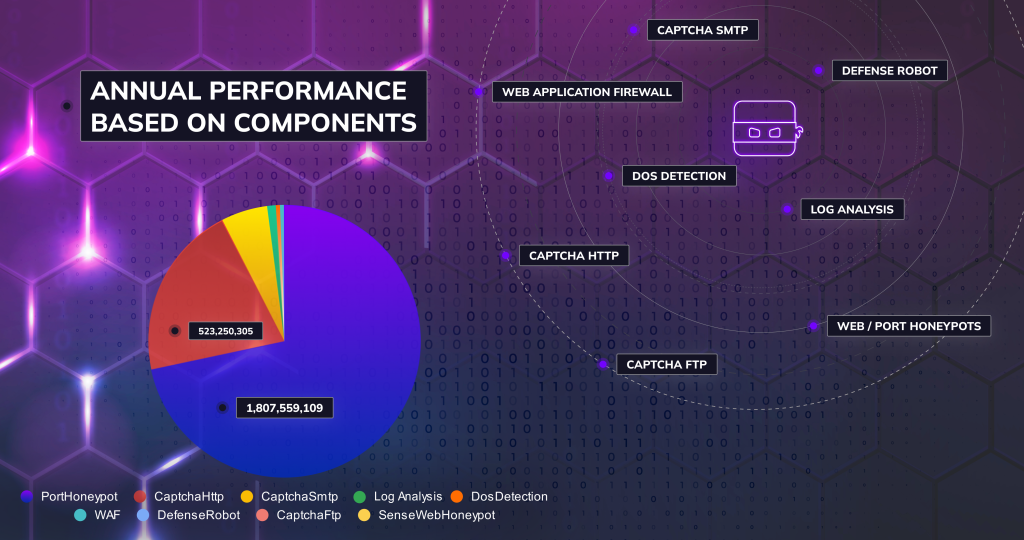 However, a significant number of the incidents (in total, around 430 million during the last 11 months) were malware. It is clearly visible that our newly remodeled super-fast Malware Scanner was able to catch even more of these threats than before its implementation The remodeled scanner works by first running a quick scan of the customer's server.
It scans for obvious signs of malware and takes significantly less time than a deep scan. Then the scanner automatically moves on to the deep scan. If there is any malicious software, the scanner will quarantine the infected file(s) and notify the server's owner so that they can take appropriate action. This two-phase approach ensures that the server is thoroughly scanned for malware without taking up too much time and energy.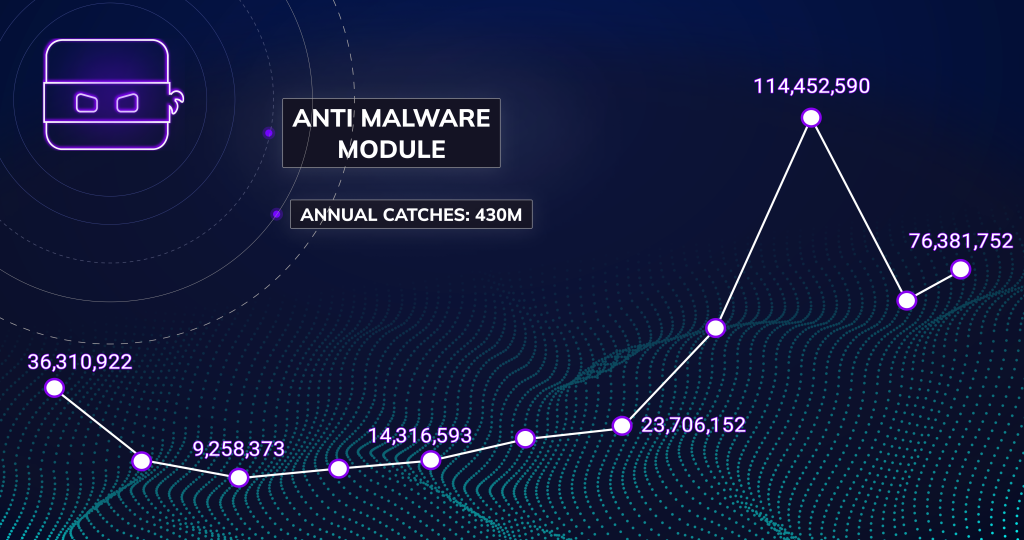 In addition to these existing components, we have recently introduced a new SQL data scanner to improve our protection capabilities further. With our new module in place, you can rest assured that your database will be regularly examined and cleaned thanks to the MalwareDetection module's detectors.
Plans for 2023
Looking ahead, we are also planning to add some new features and developments to our arsenal of cybersecurity modules. One of these is Windows protection, which was one of our top feature requests. We currently only protect Linux servers, but this will change soon. According to our research, it looks like more and more servers are running Windows, so this new version is required.
The second most-voted request was a cloud solution. The reason for this demand is the further load reduction. We have already decreased the load thanks to the previously mentioned extensive IP list. However, more is always better when it comes to server capacity. Therefore, BitNinja is developing a CloudScanner solution to perform the actual search for malware. Then the server only has to report the suspicious files, which results in a much lower server load.
And that's not all!

2023 will be full of exciting new developments. We are planning to unveil the BitNinja for container, and in addition to our already massive variety of security components, we will also be introducing a new outbound spam protection feature.
These developments are just the beginning, as we promise even more exciting new projects to be announced at the USA and European Cloudfest.
Keep an eye out for updates, and be sure to visit our booth to learn more about how we can help more and more server owners.

Summary
Overall, the 2022 annual report shows that we are making significant progress in protecting servers from a wide range of threats and are continuously looking for ways to improve and expand our security capabilities. But it could not happen without our customers, be they hosting providers, VPS providers, resellers, or small businesses. We are the Defense Network that makes changes and helps to make the internet a safer place. We hope you all had a safe and peaceful year, and we wish you all the same for 2023!